I am a member of a couple of modeling forums so when information about the "Angel of Okinawa" appeared I asked for and was given permission to reprint. The images used and original posts are located here:
http://www.arcforums.com/forums/air/index.php?showtopic=198613
Note:
Some picture sources could not be verified or identfied.
User Nemmy post Dec 10 2009, 01:28 PM:
I just got myself the old Monogram boxing of the F4U-4 Corsair. The aim: to recreate a very colorful one:
User Tailspin Turtle post Dec 10 2009, 01:56 PM:
First, it wasn't a "Training Unit". The Navy reserve squadrons were quasi-operational units. Several were called up to go to Korea, for example. Second, when it was stricken, it had the long rocket/bomb pylons on the outboard wings. (It's not clear whether these were replacements after overhaul or they were spares put on during overhaul without the trouble being taken to repaint them.)
User Silverback post Dec 10 2009, 09:42 PM:
Corsair 97286 was a standard -4 with a flat windscreen, 3x .50 cal and 4 pylons per wing.
User don f post Dec 11 2009, 10:16 AM:
AN 01-45HB-1, dated 15 April 1947, shows the round windscreen on: "Airplanes 80759 through 81758 and 81779 through 81828"
the flat windscreen on: "Airplanes 81759 through 81778 and 81829 and subsequent"
User jollyrogerf14 post Dec 11 2009, 10:45 AM:
Aahh, the Angel of Okinawa 97286.
I have a personal history with this aircraft. I'm from NE Louisiana, and I and my family knew one of the owners. Merle Gustafson. Great man! Died before his time. I have fond memories of sitting in that cockpit many times when I was a child. My mom would take me out to this little airport at the edge of Tallulah, LA (as some would tell you, where Delta Airlines first began), and just look at it, take pictures of it, and sometimes the Gustafson family would have crawfish boils under one of the hangars. His son, Steve had/has a T-6 that was painted up like an ME-109. Now he flies it with the Aeroshell Team.
Anyway, first off, the OLATHE under the starboard wing was Yellow, not White. The decal instructions are incorrect. Second, the decals for the K under the starboard wing and the 5 under the port wing are not provided. Third, the upper outer wing sections were blue just like the bottom of the wings. But, I'm sure everyone can see that from the photos provided by Silverback; GREAT PHOTOS you have there. Those are new to me. I have some showing it with the wings down. If I remember, I'll scan them Monday and link 'em at photobucket. I also have some photos of it still on the make-shift trailer that was built to haul it from the desert to Tallulah. The drop tanks were present. These photos, if I can do this right, were supplied to me by a guy I went to High School with, Darren Stroble. He knows much more about 97286 than I do. He's working on a book about it's life in the military and civilian world. I'm not sure when it is to be published, but it'll be a good one. He's researched it for years. Found photos, got some photos from the Navy and other sources. It rolled off of the assembly line December 7, 1945, served in Korea, and I've tried to get Darren to send a few photos from that time frame so I can build a model of 97286 in "Battle Colors & Insignia". But, he keeps telling me that I have to wait for the book. Darren, print the book already!!
Also, after it's purchase and shipment to Tallulah, it's fabric wings were replaced with metal similar to the F4U-5 models and above. Now, I'm not sure if the whole wing was replaced, or if just the fabric areas were converted. I'm inclined to believe it was the latter because F4U-5s and above all used cannons and not machine guns. He also put AU-1 / F4U-7 wheels on it.
As everyone knows now, it's owned by Kermitt Weeks in Florida. I plan on making a trip to see it soon. Hurricane damage grounded it, but at least is still has #5 on the nose... I just wish someone would paint the bomb/rocket racks blue.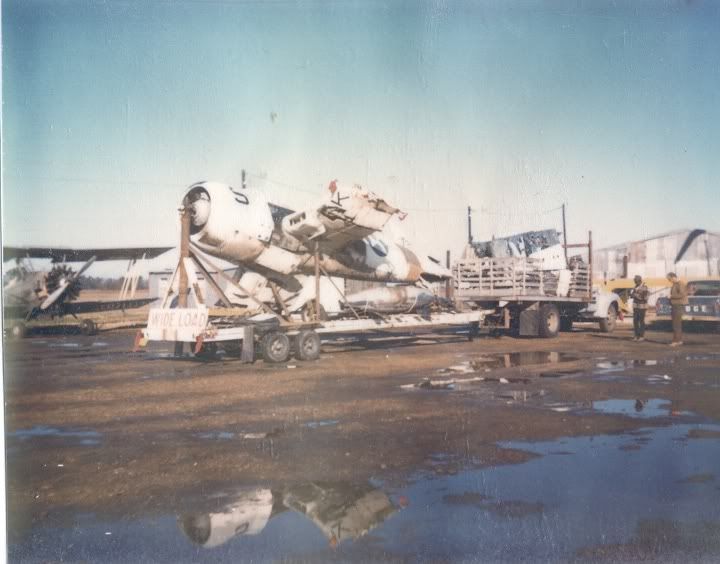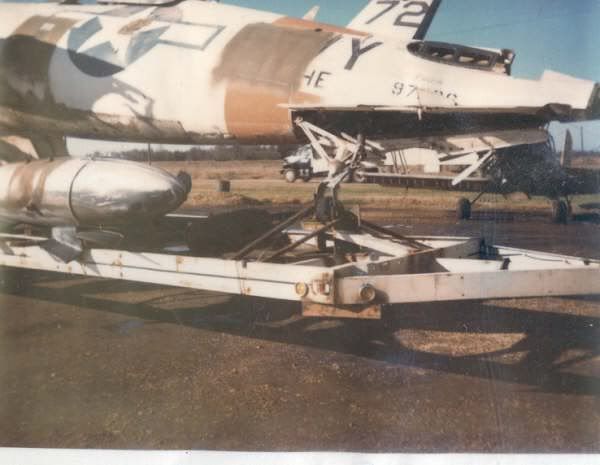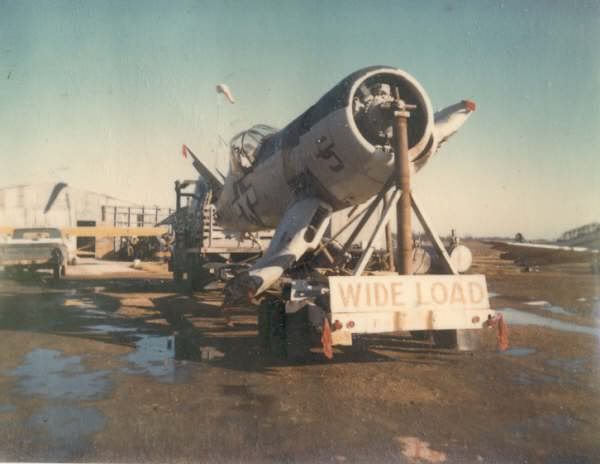 -------------- END of ARC Forum POSTS --------------
Other Internet Images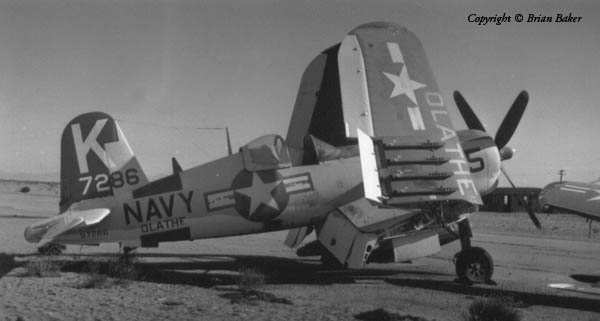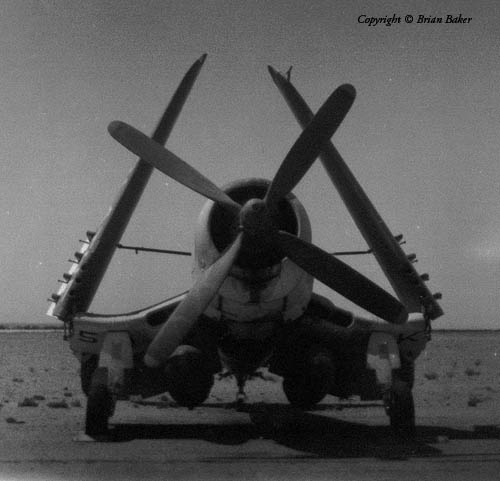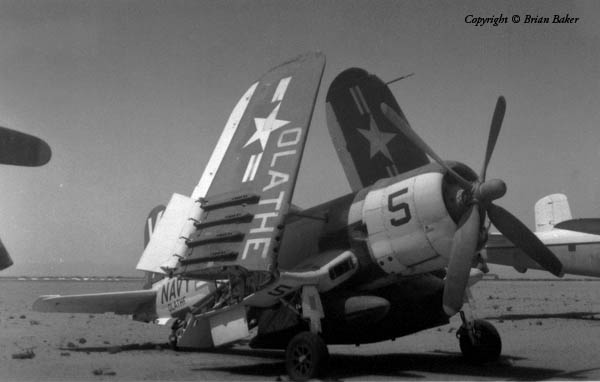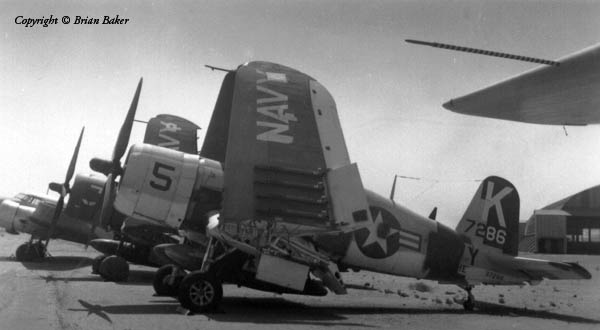 Warbird Registry Information
http://www.warbirdregistry.org/corsairregistry/f4u-97286.html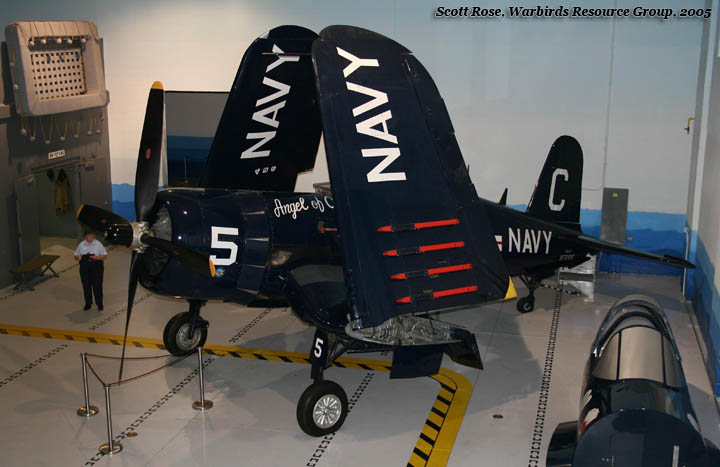 Bureau #: 97286
Construction #: 9440
Civil Registration: N5215V
Model: F4U-4
Name: Angel Of Okinawa
Status: Display
Last info: 2005
History:
Robert Bean, Hereford, AZ, 1959-1972.
- Planned sale to Honduran AF, not completed.
- Registered as N5215V.
- Stored unrestored, Blythe, CA, 1963-1972.
- Marked as Olathe/K5.
Merle B. Gustafson, Tallulah, LA, 1972-1984.
- Trucked to LA, Nov. 1972.
- Restored to airworthy.
- First flight Aug. 1973.
Robby R. Jones, Minter City, MS, 1987-1988.
Kermit Weeks/Weeks Air Museum, Tamiami, FL, 1990-1996.
- Damaged by Hurricane "Andrew" at Tamiami, Aug. 24, 1992.
- Repaired for static display pending restoration to airworthy.
Kermit Weeks/Fantasy Of Flight, Polk City, FL, 1996-2005.
- Displayed as Bu97286/G5/Angel Of Okinawa.